Sometimes, I'm so busy taking care of my kids that I forget to take care of myself. Suddenly, I realize that I'm thirsty or I need to pee or my legs are dry and in desperate need of lotion. Do you do this? As a parent, it's important to take a time out to exercise, rest, and do something nice for yourself. L
ittle things like doing my nails can make me feel pampered.
This is why I was so glad to be given some Jamberry nails to try in the Floral Oasis pattern.
*** I received the Jamberry nails for free in exchange for an honest review. I wouldn't recommend a product if I didn't believe in it.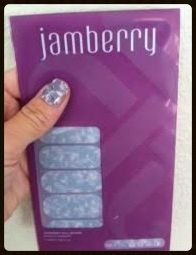 What are Jamberry nails? They are non-toxic, vinyl based nail designs that allow you to give yourself a beautiful manicure or pedicure. Unlike nail polish, they aren't wet so you don't have to sit around and wait for your nails to dry. With a toddler running around the house, I don't have ten minutes to wait for my nails to dry. Also, Jamberry nails don't chip or have a chemical smell.
So, how did I like them?
I think Jamberry nails are amazing. My favorite part is all of the different designs. I love polka dots, flowers and stripes on my nails. However, it can be hard to make intricate designs on your own nails and when you mess up, you have to take off the polish and start all over again. Who has time for that?
With these nail wraps, the pattern is
already on the 'heat-activated nail wraps.' They have so many options for the holidays too and there are Jamberry Juniors made for smaller hands. Jamberry wraps come on sheets so they don't take up a lot of room either.
Here is a You Tube video to show you how easy these nails are to apply and remove:
It's important to follow the directions so that you get the most "life" out of your Jamberry manicure or pedicure. I used a hair dryer to heat my nails for a few seconds (be careful).
After five days of doing dishes and cleaning up tons of messes, my nails still look great!
If you're interested in learning more about Jamberry nails you can check out Katie's Jamberry shop. She's an independent consultant for the company. If you like Jamberry, you might want to take advantage of their Buy 3, Get One Free Promotion. Katie also hosts Jamberry Facebook parties. If you host a party, you can earn free wraps. Check out her Facebook page here.
Katie was nice enough to give me another variety of wraps, in Etched Leaf, so I could host a giveaway.
Enter below for a chance to win.
a Rafflecopter giveaway
Disclaimer:
Contest is open to residents in the US. Must be 18 or older to participant. Only one entry per household, per address. The winner will be chosen at random and will have 48 hours to claim the prize or another winner will be selected. Void where prohibited by law. This contest is not affiliated with or sponsored by Twitter, Facebook or Google Plus. No purchase is necessary to enter. Contest ends on November 23 at 12:00 am.